Home
Biography
Photos
Jewelry
Music
Perfumes
Gift Shop
Contact
View Cart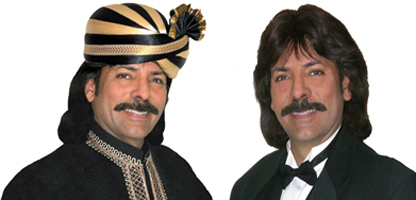 SHAWN RAE
"AMBASSADOR FOR A BETTER WORLD"
by
Nori Rao

As a unique and multifaceted personality, and a true nexus of the East and West, Shawn Rae is a natural-born global thinker who possesses a well-rounded and interestingly refreshing personal appeal. As an individual he has accomplished much, and is noted internationally for his varied contributions as a speaker, a designer, a recording artist, and a humanitarian. Shawn has, during the course of his global work, met, interviewed, consulted or worked with a host of distinguished personalities from A to Z–– from Wally Amos ("Famous Amos") to Arianna Huffington to Fareed Zakaria, and many others in between. Shawn has represented the United States at various national and international events, and has also been featured in the media speaking on topics such as corporate giving, human rights abuses, matters relating to world trade, technology, and energy-related issues affecting humankind. He was selected as one of the Top Ten Speakers in the United States for the Conference on American Ingenuity by the U.S. Department of Commerce and picked as one of four Judges by the U.S. Patent & Trademark Office and the Intellectual Property Association (IPO). The IPO is comprised of such prestigious members as, General Motors, Lockheed, 3M, General Electric, Microsoft, Xerox, Aramco, Rolls-Royce, and other major corporate and multinational leaders.

Shawn is the global "Goodwill Ambassador" for the World Energy Forum headquartered at the United Nations Plaza. The World Energy Forum partners with world governments, energy-related organizations, and the private sector. Its annual World Energy Forum Conference at the United Nations, along with many other events all over the world, helps to lead a global conversation on energy issues, and to educate and campaign for accessible and sustainable energy that can benefit the economic and social development of all nations and peoples across the globe.

Nicknamed Bambi at birth by his relatives and tribe, Shaanshehryar Khan Rae Zagajadoon, was raised until the age of 18 in the foothills of the Himalayan Mountains. Historical figures such as Marco Polo, Alexander the Great, and Genghis Khan, among others, once visited his homeland. Noteworthy here is the fact that Shawn inherited from both of his parents a remarkable lineage of Christian, Hindu, Sikh, Muslim, Jewish, Buddhist, Tibetan, and Chinese ancestry. It was due in large part to his having this multifarious background that Shawn was instilled with a fierce desire to erase international differences and to impact the ways in which human beings care for one another. His heartfelt desire for helping those in need stems from the time he witnessed, in a refugee camp at the age of six, the horrors of homelessness, hunger, disease, and despair. These tragic scenes, etched in his mind, moved him to join with others to alleviate such misery among the suffering peoples of the world.

At the age of seventeen, the United States government invited Shawn from the Far East to study as an exchange student in the United States. He was then sent to Europe and Asia to act as an Ambassador for American Education. A year later, on his own, Shawn traveled back to the U.S., desiring to further his American studies. With this goal in mind he received a Bachelor of Science Degree in Public Administration with an emphasis in Political Science and Economics. Later on, he received his LL.B. Degree (Juris Doctor equivalent) in International Law and an LL.M. (Master of Laws) degree for the purpose of serving those suffering from human rights, access to justice, and human slavery abuses in the developing world.



As a recording artist Shawn has just completed a new CD of love songs entitled A World of Romance, A Time to Fall in Love, as well as a duet with, Deana Martin, daughter of American musical icon Dean Martin, for his American debut of his Christmas Album, A World Christmas, Love Knows No Borders. As a designer, he has a line of products that include both a Jewelry Collection and a Perfume Collection known as ONENESS, characterized by a philosophy that "exhorts individuals to challenge themselves to reach beyond the boundaries of one's self, and to awaken to the spirit of oneness inherent in humankind." In all of these products and other endeavors, Shawn is committed to share in royalties and to dedicate his time and effort in promoting and supporting causes that are in the service of alleviating homelessness, hunger, disease, and despair.


Shawn's motto is, "Challenge yourself…" He feels that anyone can achieve anything if one challenges oneself enough. According to Shawn, "A unified humanity can collectively resolve problems… Divided, we only serve to create them." Further, Shawn sees, "The challenge is individually and collectively to awaken our true potential for goodness and greatness, and to realize that positive change begins with us."

"A student of life", is how Shawn best likes to describe himself. Blessed with a rich ancestry and a vast cultural background, he has gleaned both knowledge and experience from living in the far corners of the East, to the land, which he now lives and loves in the West. Shawn believes that both these influences together helped to shape and sharpen him in his goal and mission to work for the benefit of the less fortunate, as it continues to serve him as an invaluable walking stick on his "continuing journey towards self-illumination and enlightenment."


Nori Rao is a Producer, former Editor-in Chief of Miracle Journeys Magazine, Radio Talk Show Host, Lecturer, and frequent guest on Radio and Television. She has traveled throughout the world as a Performing Artist, and for several years her choreographed "Contemplative Dance" was an integral part of internationally acclaimed recording artist and composer, Steven Halpern. As a Producer of Expos and Mega-Conventions her list of participants included revolutionary thinkers such as Timothy Leary, "Many Lives, Many Masters" best-selling author Dr. Brian Weiss, "Life After Death" best-selling author Raymond Moody, Ken Keyes, Jr. author of the best-selling "The Hundredth Monkey", and many other well known and world famous personalities.


| | |
| --- | --- |
| | A PERSONAL NOTE OF THANKS … FROM SHAWN |
As a student of life, my understanding to date is derived from a compilation of writings, conversations and observations learned from many cultures, traditions, religions, and from both Eastern and Western philosophies - all have been intertwined to form an invaluable walking stick on this continuing journey towards self-illumination and enlightenment.
In this process of my personal growth, I have come to not only recognize, but to honor the wisdom that has come from so many wonderful, sometimes surprising, and often times rather unexpected sources. It has been my privilege to learn and grow from a myriad of individuals, whose individual and collective contributions bestowed upon me such favors as love, understanding, guidance, acceptance, respect, belief, and faith. To all of you - parents, family, relatives, associates, friends, and to friends I've not yet met - I say, "Thank You!" For it is in this simple statement that I can truly express the feelings with which my heart overflows …Thank You for being!
With Love,
Shawn
© 2019 by Shawn Rae. All Rights Reserved